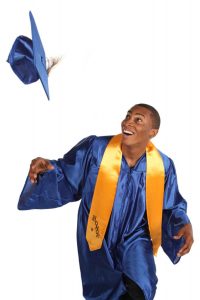 Gamma Honors offers membership in five categories: Doctoral Degree, Master's Degree, Bachelor's Degree, Associate's Degree and High School Diploma/Certificate.
To become a Member

(1) You must be a graduate of an accredited university, college, or high school
(2) You must have graduated with one of the following honors: Summa cum Laude (Highest Honors), Magna cum Laude (High Honors), Cum Laude (Honors), Valedictorian, Salutatorian, or in the top 1% of your high school graduating class. Note: Applicants with Master's degrees must have earned a GPA in the 90th percentile or a minimum GPA of 3.59 on a scale of 4.0. Applicants with an earned Doctorate automatically qualify for membership on the basis of that degree. There are no GPA requirements for Doctoral degree applicants.
(3) You must complete and submit the online APPLICATION FORM as a Pending Honoree.
(4) We must receive your ACADEMIC HONOR VERIFICATION FORM duly signed and verified by the appropriate official of your university, college or high school.
(5) You have received official notification by email and/or post welcoming you and informing you that you have been accepted for membership.
PENDING HONOREE: Upon qualifying and completing the online application form, you will be categorized as a PENDING HONOREE. A Pending Honoree is a graduate who in his/her belief or calculation has met Gamma Honors' academic requirements and has submitted the online Application For Membership Form but whose completed, signed and certified ACADEMIC HONOR VERIFICATION FORM has not been received and processed, and a letter of admission into membership has not yet been issued. Keep in mind that you are a Pending Honoree only. You are not a member  of Gamma Honors Society. Only members are admitted to the society and only admitted members will be entitled to the rights, privileges, and benefits of membership.
CLICK HERE TO DOWNLOAD THE ACADEMIC HONOR VERIFICATION FORM
If you believe you qualify as a potential Member , CLICK HERE TO BEGIN THE APPLICATION PROCESS.
MEMBERSHIP CATEGORY
CATEGORY A: POSTGRADUATES – GRADUATES OF COLLEGES AND UNIVERSITIES WHO HAVE EARNED A DOCTORATE
CATEGORY B: POSTGRADUATES – GRADUATES OF COLLEGES AND UNIVERSITIES WHO HAVE EARNED A MASTER'S AND A MINIMUM 3.59 GPA ON A 4.0 SCALE
CATEGORY C: GRADUATES OF FOUR-YEAR COLLEGES AND UNIVERSITIES WHO HAVE EARNED A BACHELOR'S AND ONE OF THE FOLLOWING HONORS:
Summa cum Laude (Highest Honor)
Magna cum Laude (High Honor)
Cum Laude (Honor)
CATEGORY D: GRADUATES OF TWO-YEAR COMMUNITY & JUNIOR COLLEGES WHO HAVE EARNED AN ASSOCIATE'S AND ONE OF THE FOLLOWING HONORS:
Summa cum Laude (Highest Honor)
Magna cum Laude (High Honor)
Cum Laude (Honor)
CATEGORY E: GRADUATES OF HIGH SCHOOL WHO HAVE EARNED A HIGH SCHOOL DIPLOMA OR CERTIFICATE AND ONE OF THE FOLLOWING HONORS:
VALEDICTORIAN
SALUTATORIAN
TOP ONE PERCENT OF HIGH SCHOOL GRADUATING CLASS